We live in a fast-paced digital world where effective communication and timely reminders are paramount, especially when it comes to managing successful Discord communities. Whether you're a community manager, event organizer, or simply someone who wants to ensure important messages reach their intended audience, having a reliable bot to handle announcements and reminders is essential. This is where dotNotify, the feature-rich Discord Reminder Bot, comes into play.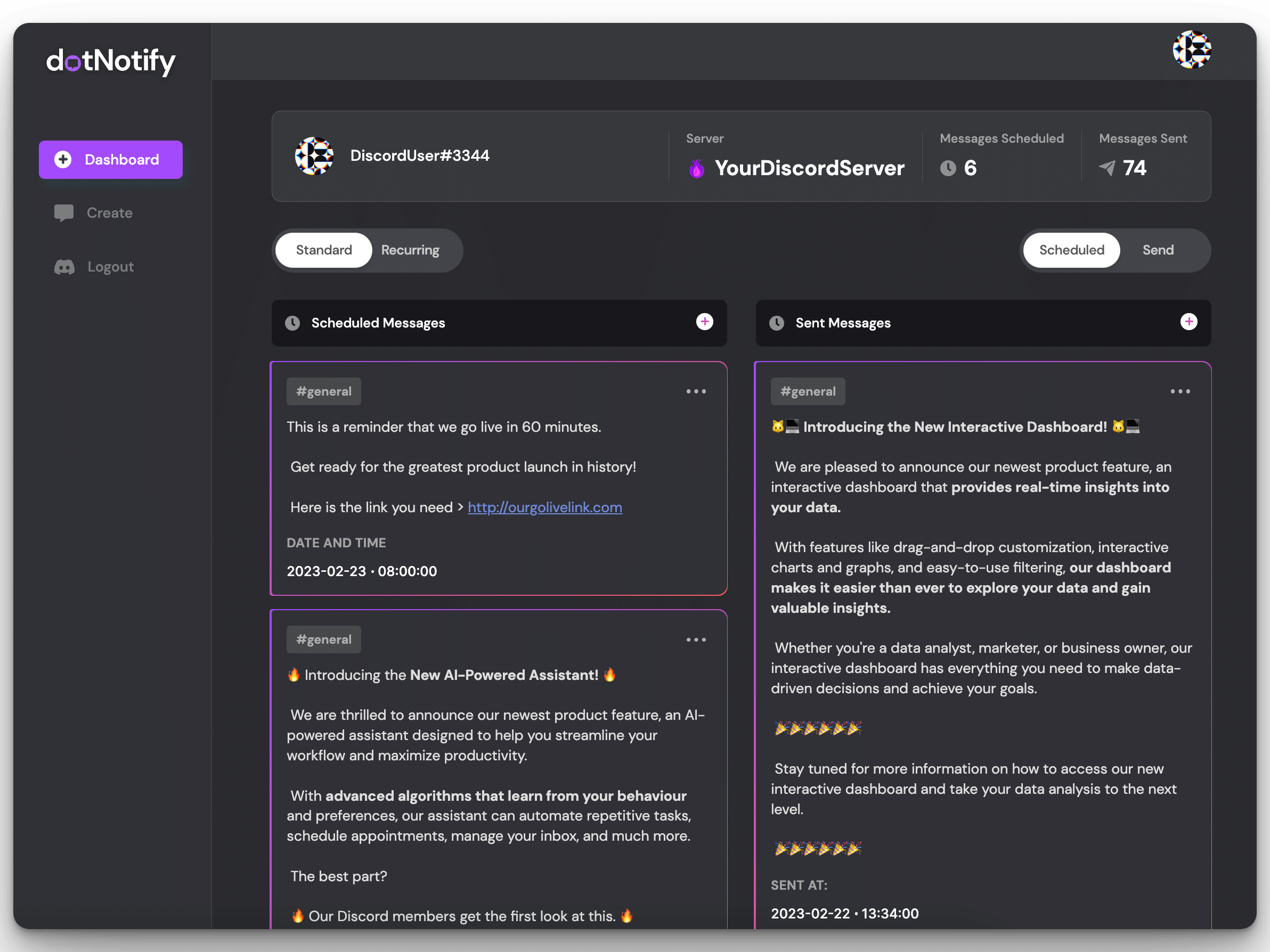 Schedule Ahead for Increased Engagement and Clicks
One of the standout features of dotNotify is its ability to schedule announcements ahead of time. You can ensure maximum engagement and reach by planning and preparing your messages in advance. You no longer have to worry about forgetting to send a critical announcement or scrambling to get the word out at the last minute.
Hit Different Timezones with Ease
For communities with members spread across various time zones, dotNotify is a game-changer. The bot allows you to schedule multiple messages or announcements for the same event or campaign, ensuring that everyone receives the information at the most convenient time for them. You can increase participation and engagement within your Discord community by tailoring your messages to different time zones.
Effortlessly Set Up Daily, Weekly, and Monthly Messages
With dotNotify, setting up repeating messages is straightforward. You can configure daily, weekly, or monthly messages to be sent automatically to any channel on your server in just two clicks. Whether you want to send daily inspirational quotes, weekly event reminders, or monthly updates, this bot has got you covered. Say goodbye to manual reminders and hello to automated efficiency.
Craft Perfect Embed Announcements with Ease
dotNotify offers an intuitive embed builder that allows you to construct visually appealing announcement messages effortlessly. With full customization options, you have complete control over every element of your announcement. Choose the colours that match your community's branding, upload images to make your messages more engaging, and even include clickable buttons to direct users to relevant information. The possibilities are endless for creating the perfect announcement with dotNotify.
Seamless Scheduling in Any Timezone
dotNotify takes into account the global nature of Discord communities. Regardless of your location or the timezone of your audience, the bot enables you to schedule messages and announcements around the clock. This means you can reach your community members wherever they are in the world, ensuring that critical information never gets lost in translation due to time differences.
Real-Time Preview for Perfectionists
You can easily fine-tune your announcement messages with dotNotify's WYSIWYG (What You See Is What You Get) editor. The built-in real-time preview feature lets you see precisely how your embed message will look before it goes live. This ensures that you can make any necessary adjustments and guarantee that your announcement captures attention and delivers your intended message effectively.
Conclusion
If you're looking for a powerful and versatile bot to handle reminders and announcements in your Discord community, dotNotify is an excellent choice. With its scheduling capabilities, support for multiple timezones, and intuitive embed builder, this bot empowers you to engage your community effectively and ensure that your messages reach the right audience at the right time. Say goodbye to manual reminders and hello to streamlined communication with dotNotify, the ultimate Discord Announcement Bot.