Are you looking for the best keyboard case for your iPhone? Well, there is a new keyboard case that allows you to make good use of your iPhone. Physibo is an innovative device that is designed with a QWERTY keyboard shape for convenient typing and texting. The durable keyboard case has been modeled to offer functionality that you won't find in the touch panel keyboard. With its unique features and usability, Physibo is the best phone case currently on the market. The device fits iPhone X, iPhone Xs, and iPhone 11 Pro. If you're an iPhone owner who loved Blackberry phones, you'll find this device extremely useful. Physibo is a great phone accessory for people who want to type at the speed of thought.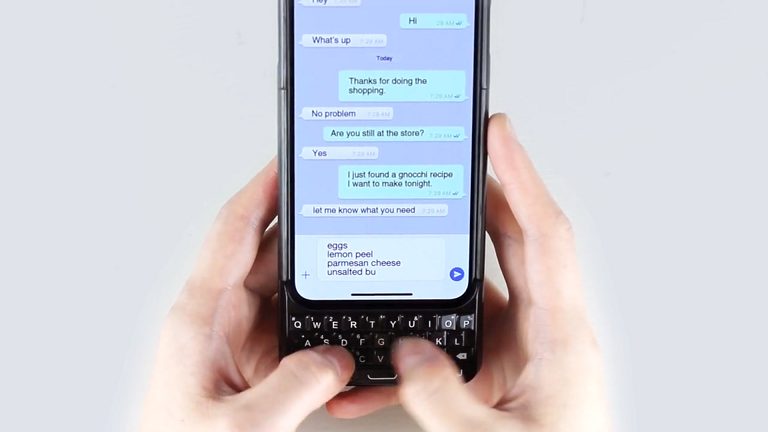 Who is Physibo meant for?
This device is designed for users who want to enhance their typing speed and eliminate typing errors. If you're a person who types a lot of your phone, Physibo will definitely help you to have an effortless typing experience. With its QWERTY keyboard design, physical keyboard lovers will also find this device absolutely handy. Physibo is designed with best features, making it the best keyboard case for students, the elderly, teens, and fast-paced professionals.
What the key features of Physibo?
It comes with a compact physical keyboard that enables tactile typing.
It features precision design to ensure it wraps around the circumference of your phone. The unique and pocket-friendly design also allows for easier and faster typing. It also improves the aesthetic of your phone.
It comes with soft yet durable keys to ensure convenient typing. The keys will remain in their tip-top condition for decades.
The device is built to last for decades and does not break easily when dropped or impacted.
It comes with an easy-grip ergonomic design which ensures your iPhone does not fall off your hands when typing.
The device is super slim to ensure it doesn't add much weight to your iPhone, which would impair its functionality.
Why is Physibo the best keyboard case in the market?
It features a blind touch function that allows for a seamless typing experience.
Comprises of features that are unavailable in regular phone cases in the market.
It comes with backlight features that enable you to use your iPhone even during nighttime.
The device can be used immediately.
The device is convenient to use when you want to use it.
It does not get in the way of your iPhone's charging port or volume buttons and power button.
It incorporates Bluetooth technology to allow for uninterrupted connection with your iPhone. The device pairs easily with your phone.
It provides a solution to touchscreen problems.
It works as a protective case for your iPhone.
The device is designed for convenient and portable daily use.
Physibo is the best keyboard case that offers a Blackberry-like typing experience. Whether you want to increase your typing speed by 50% or you're simply a physical keyboard lover, or you miss the fast typing typical in Blackberry keyboard, Physibo is specifically designed to cater for your needs.
For More Detail Visit Now: case with Keyboard for iPhone X/Xs and 11 pro